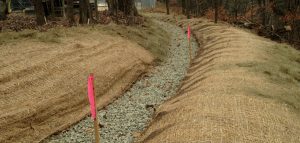 Erosion Control
The National Pollution Discharge Elimination System (NPDES) of the Clean Water Act (CWA) requires construction activities in excess of 1 acre to obtain a permit for the discharge of stormwater.  When exposed to rainfall, disturbed soil on construction sites results in erosion of soil.  Sediment washing into streams and wetlands from construction activities is one of the largest water quality problems.  Sediment can kill or weaken fish and other organisms and have adverse impacts aquatic wildlife habitat.
Erosion Control Permit Process
Erosion prevention and sedimentation controls (EPSC) are incorporated into all site designs in order to address these potential impacts.  EPSC may require phased construction to limit the total amount of exposed earth on a project at any one time.  It is also common to limit the time of year that construction can occur.  Silt fence, erosion control wattles, hydro-seeding, and erosion control blankets are some examples of common erosion control practices.
In Vermont a Construction General Permit 3-9020, also known as a CGP, is required for sites disturbing in more than 1 acre.  Projects are classified within the CGP program as Low Risk, or Moderate Risk.  The risk level depends on the site and soil characteristics and the site management procedures.  The Site Operator, named in the CGP for the project is responsible to limit the area and duration of exposed earth and must employ proven erosion control practices found in the Low Risk Site Handbook.  The Low Risk handbook allows the Site Operator to determine the best erosion control practice for the site.   Projects that are too large or too complex for the CGP program must obtain coverage under the Individual Permit program.
In Massachusetts, coverage is required under the NPDES Phase II permit program which is administered through the USEPA Region 1 for projects disturbing between 1 and 5 acres.  Project proponents must develop a Stormwater Pollution Prevention Plan (SWPPP) program and file a Notice of Intent (NOI).