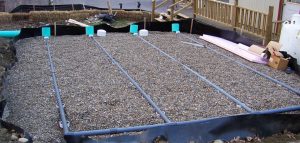 Massachusetts Title 5 System Design
All septic systems operate in the same general way.  The septic tank serves as a primary settling chamber, to settle out solids and reduce the strength of the wastewater.  Due to the lack of oxygen in the septic tank it operates in anaerobically.  The Soil Absorption System (SAS) is where final treatment takes place.  The SAS is designed to operate aerobically, meaning in the presence of oxygen, which is why it is critical that the SAS be placed well above the groundwater table.
The Title 5 Permitting Process
Massachusetts regulates on site wastewater disposal systems through the Title 5 regulations (310 CMR 15.00).  A new or replacement Title 5 System design requires a permit from the local Board of Health.  The permit process starts with a site and soil evaluation, typically referred to as a perc test.  The purpose is to carefully examine the soils to determine the estimated seasonal high groundwater table.  Additionally, percolation tests are performed to evaluate the ability of the soil to absorb the wastewater.  A topographic and feature survey is typically the next step, which allows us to make an accurate map of the existing conditions, which might include existing wells, wetlands, and property lines.  The design consists of adding the proposed features (house location, driveway, etc.) and a detailed design of the septic system and well location including all the details required by the Title 5 Code, as well as, all the details required for the contractor to construct the system.  A final inspection by the design engineer and the Board of Health is required to verify the system construction has been completed in accordance with the approved plans, and allows the Board of Health to issue a Certificate of Compliance.
For replacement systems, such as those that fail a Title 5 Inspection, a pretreatment technology can be utilized to deal with challenging site.  Where space is limited, or where very high groundwater tables, compacted soils and/or shallow ledge is encountered, an innovative/alternative system can be used as a pretreatment technology to reduce the size of the required disposal area or the separation to the groundwater table or impervious layer.
New systems must be fully complying with the Title 5 regulations, while replacement systems are eligible for variances by Local Upgrade Approval.  The Title 5 program issues permits for Innovative and Alternative technologies for Remedial Use (for Replacement System designs only) which are somewhat more lenient than those issued for General Use.