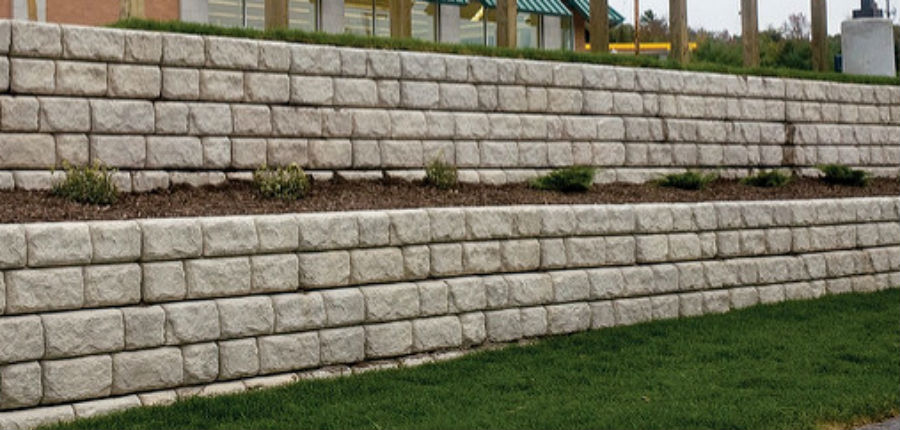 Retaining Walls
On certain Site Designs, retaining walls are required to provide a safe and stable grade transition.  A site design often uses a simple dry laid stone wall to define an area.  A simple gravity retaining wall can serve as an attractive way to provide a grade change in a site plan.
Improperly designed retaining walls fail by overturning, sliding, settling, or by a global slope failure.  In order to avoid a failure on taller walls it becomes increasingly important that more care go into design and construction of the retaining wall.  For example, the Massachusetts Building code requires walls in excess of 4 feet to be designed by a professional engineer.  Modular Block Walls and Mechanically Stabilized Earth (MSE) retaining walls have emerged as a cost effective way to construct taller retaining walls.  MSE retaining walls utilizing the backfill placed behind the wall to provide a measure of support to the wall itself.
Our personnel have experience with many types of retaining wall design.  Our past projects include gravity retaining wall design, modular block walls and Mechanically Stabilized Earth (MSE) retaining walls.   There are many modular block wall vendors available providing a variety of colors and wall surfaces to suit the project needs.  Selecting the wall materials, includes deciding on block materials, sizes and styles.  The design engineer must consider chemical exposure, equipment size required to set the blocks and the skill level required to construct the wall.  All of these factors affect the cost and durability of the wall.
Trinity Engineering also has experience with temporary earth support systems.  Past projects include cantilever sheet pile walls, tie back and waler systems, and sheeted pits with concrete compression rings.
Trinity has also provided slope stability evaluations and designed slope stabilization measures to address slope failure issues for existing unlined landfills, and on various residential and commercial subdivisions